Archive for the 'Activism' Category
Arrgh! What is the point? I can't share some music I like with you… because:
The record companies don't want me to.. because:
They think they can get more money if less people hear the music.

Is this making any sense yet? No? Me neither.
None of the musicians I have known are rich, so the argument about them not getting the money from us buying their music still rings a bit hollow.
It now cost close to nothing to copy music.
If I play you a CD that I bought, am I sharing this music illegally?
Great article about making solar powered laptop bags in Africa. (Also part of my Posterous experiment!)
Via Afrigadget
via AfriGadget by Erik Hersman on 8/23/09
This is part of an ongoing series of posts on the FLAP bag project, a collaborative effort by Timbuk2, Portable Light and Pop!Tech. We at AfriGadget are helping to field-test these bags that have solar power and lighting on them, and get interviews of the individuals using them.
Jericho Market is a small market tucked away behind the industrial area in Nairobi, Kenya – near to Buruburu. It's where you can find a lot of artisans who work on cloth-based projects, from clothes to bags and everything in between. I took off with David Ngigi, a local videographer friend of mine, to see who we could find. I brought two of the unstitched bags, two Portable Light kits and one completed bag as a sample.
The first person we spent time with was Joseph Muteti, a soft-spoken, 18-year veteran of the tailor trade in Nairobi. He specializes in making school bags for children and messenger-type bags. His bags are generally sturdy, with an added flair of embroidery to set them off for his customers.
Next up was Stephen Omollo, an energetic young designer who works on textiles ranging from shirts to bags. Style and usability are both important to Stephen, and his primary desire is to create items that people are proud to wear.
Interestingly, both Stephen and Joseph thought the bags were too large. Stephen wanted to cut in half, and Joseph by about a third.
Philosopher-comedian Emily Levine talks about science, math, society and the way everything connects. She's a brilliant trickster, poking holes in our fixed ideas and bringing hidden truths to light. Settle in and let her ping your brain.
This talk documented by Dmitry Orlov on his web site got me thinking about how I ended up even seeing the link in the first place.
It probably started a long time ago when I was in my 20′s and was a young hippy with dreams (as opposed to an old hippy with dreams that I now am).
The standard text book that was lying around any self respecting commune was the Whole Earth Catalog or failing that and even more seductive to me was a book simply called 'Shelter'.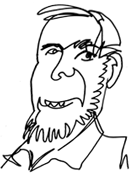 One man was involved with both publications Kevin Kelly.
Kevin Kelly was involved with the counter culture in the west coast of the US and was an early adopter of computers. If you were attempting to catalog the earth it was probably seem enticing.
He also got involved in setting up The Well and early bulliten board system but as it require a subscription I always shyed away from joining up. When the Internet was firing up he was involved again with setting up a paper publiction called Wired. Still going strong.
Latterly I read his musings online and also further link ups he has with The Long Now Foundation of which the illustrious Brain Eno is also a collaborator.
So via tenuous links and and authentication through association I have become a fan.
Read Kevin Kelly if you read anything online. Worth a look and take a look at the other articles that Dmitri posted on his blog particularly on his view on 'the village'.
But most importantly do read 'Social Collapse Best Practices' talk yesterday at the 'Long Now Foundation'
I'm suddenly seeing connections everywhere! (Nothing really new there then!).
But I was reading an article today online which was suggesting that PowerPoint designers should learn something from the developing social media upsurge which resonated with some thought I had had recently.
The article asked what a PowerPoint presentation might look like with recent social media developments in mind?
My answer is that it probably wouldn't look like a PowerPoint presentation at all. The author Laura Bergells took a quote from designer Tony Ramos' Twitter feed in which he says:


Screen shot owned by Laura Bergells


'Treat slides like tweets. Limit yourself to 140 char'.
He has a good point but it got me thinking on….
The essential thing about twitter, if you contrast it against email or as a better contrast, against blogs and comments, is that with a twitter stream every one has the same amount of space to make their 'comments'.
Someone said recently that a Twitter posting is about the length you can speak before you have to take a breath.
While you could see this as a sad comment on the short attention span of our society, you could also see it as a democratizing format.
We can interact with the great and the good. Everyone is on the same level. No one gets to have a fancy designed blog or website. We all have the same interface. Just that 140 characters.
If you look at any blog, this one included, the format and design tells you clearly that this is my space. "You can leave a comment if you like" but it is just that; a comment. I obviously wield the power in my domain and I can allow or delete what you might have to say.
In many blogs the comments are actually hidden unless you choose to look at them.
In contrast in Twitter we all have exactly the same power. If I decide to listen to what Stephen Fry, Barack Obama or Chris Brogan have to say on Twitter, I can. I can even reply to them in the same public forum (even if they aren't hearing me), my comments are addressed at them and my audience can see that I have engaged with something they have said.
So what would my PowerPoint presentation look like? Well it would have to be essentially interactive and democratized. Every one would have equal power to have a say and to be listened to. There would probably be an element of Pecha_Kucha (where each presenter is allowed a slide show of 20 images, each shown for 20 seconds). But maybe something even more collaborative would be needed.
What if everyone could work collaboratively on the same presentation document at the same time? A little like a Wiki. What would that be like? A mad bun fight? A mess? That's what they said about Wikipedia and look what happened.
Tell me what you think would happen…